Mr. Danoff's
Teaching Laboratory
Spring 2011 Courses
| | |
| --- | --- |
| ENG 101 - Writing Persuasive English Essays | ESL 101 - Conversational English |
| Are you a high-school or college student? Do you want help writing essays for school? | Do you want to improve your spoken English? |
| | |
| Course Structure: Each week a student will e-mail me an essay, I will read and edit it, then send it back with comments. We will then have a half-hour lesson to talk about the essay. | Course Structure: Half-hour English conversation, where I talk with the student and teach them what they want to learn about speaking English. |
| | |
About the Instructor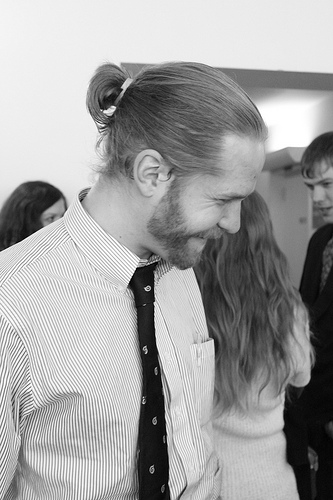 Charles Jeffrey Danoff (aka Mr. Danoff) is the CEO of Mr. Danoff's Teaching Laboratory. He is a certified English Language teacher whose taught English as a Foreign Language at three institutions and has contributed to or edited three books about teaching English. He has a BA from Colgate University majoring in Economics and English, completed the TUCK Business Bridge Program and proudly earned his high-school diploma from New Trier.
Teaching Experience
| | | | |
| --- | --- | --- | --- |
| September 2010 - October 2010 | The Peer 2 Peer University (P2PU) | Online | Co-organized Collaborative Lesson Planning with Dr. King, a course for teachers who are interested in improving the quality of their lesson plans and in making them available for others to use in the third cycle of P2PU. |
| August 2009 - June 2010 | Anqing Foreign Language School | Anqing, China | Conducted 21 Classes per week of Aural English at Anging Foreign Language School based on the FUN WITH ENGLISH 7A/B, 8A/B textbooks to 7th and 8th grade junior-high school students. The lesson plans I wrote were used to make the "Teaching EFL Listening via FUN WITH ENGLISH Books" Open Educational Resource on Wikiversity. |
| July 2008 - July 2009 | Hamatonbetsu Board of Education | Hamatonbetsu, Japan | As an Assitant Language Teacher (ALT) I worked alongside Japanese Teachers of English's (JTE) at 10 schools schedule by the Hamatonbetsu Board of Education. I was on the Japan Exchange and Teaching (JET) Programme. Some of my lesson plans and related Open Educational Resources are on my original teaching website: "The Teaching Homepage of Charles Jeffrey Danoff, a.k.a. チャーリー先生 (Charlie Sensei)". |
Academic Work
One definition from Oxford English Dictionary1 of the adjective form of "academic" is "Of or belonging to an academy or institution for higher learning; hence, collegiate, scholarly." Their second example of the word in print comes from Bp. J. Hall in 1598 who wrote "Oh let me lead an Academicke life." I hope to carry that spirit through my work as well.
Books Contributed to or Edited
Wikiversity. (2011). Fun with English 7B & 8B: Unofficial teacher's handbook Mr. Danoff, (Ed.). USA, Tennessee: PediaPress. OL ID: OL24606597M
Pawan, F., Danoff, Mr., Hoch, N. et al. (2010). Teaching english in global contexts: A wikibook published by the students of L530 class spring 2010. Retrieved from http://l530.wikispaces.com/1. OL ID: OL24610948M
Paper Presented
Non-Refereed Articles
Teaching English in Global Contexts. [web link]
Education
Completed Studies
Dates
Degree / Certificate
Location
November - December 2010
Cambridge University's Certificate in English Language Teaching to Adults (CELTA)
Teaching House New York

Taught six hours (including grammar, reading and listening) of observed and assessed teaching practice to adult ESL students.
Supplemented textbook lessons with original and sourced materials.
Written assignments included case study and needs analysis of an individual learner, as well as designing tasks for practicing receptive and productive skills.

New York City, NY, USA
January 2010 - Present
EFL/ESL Teaching Certificate
Indiana University's EFL/ESL Program via Distance Education

Completed graduate courses L539 Language Foundations for EFL/ESL Teachers, L530 Teaching English in Global Contexts and L525 Practicum in Language Education with a 3.67 GPA.
Taking L540 EFL/ESL Approaches to Instruction and Assessment in the spring 2010 semester.

Online via Bloomington, IN, USA
June - July 2007
Tuck Business Bridge Program
The Tuck School of Business at Dartmouth College

The Tuck Business Bridge Program is an intensive, career-focused program for students and recent graduates of arts and sciences colleges. In four weeks we studied the basics of accounting, marketing, finance, and leadership instructed by MBA faculty.

Hanover, NH, USA
August 2003 - May 2007
Bachelor of the Arts, with Majors in English and Economics
Colgate University
Hamilton, NY, USA
August 1999 - June 2003
High School Diploma
New Trier Township High School
Winnetka, IL, USA
Current Studies
Mr. Danoff is taking Open Governance and Learning at Peer 2 Peer University, L540: ESL/EFL Instruction and Assessment Approaches at Indiana University Bloomington's School of Education, ACC164 - Microsoft Excel for Accountants at Oakton Community College and a Novice Japanese Class at the Chicago Japan Information Center as part of his Handmade Spring 2011 Semester.
Autobiography
My formal education began with Winnetka playgroups in the mid-80's and continued through Tokyo's Nischimachi International School, Winnetka's New Trier High School and Hamilton's Colgate University. I have also completed the TUCK Business Bridge Program at Dartmouth College and earned my Certificate in English Language Teaching to Adults (CELTA).
My professional teaching career began in summer 2008 in Montagnola, one of the prettiest places in the world, tucked into a tiny corner of Italian Switzerland. Shipped next to Japan for a year in the winter wonderland of Hamatonbetsu and followed with a year in Anqing an up-and-coming Chinese city. I taught English as a Foreign Language (EFL) in all three jobs, and in 2009 my work traveled online primarily with this website. A year later I Co-organzied my first online course on the Peer 2 Peer University, and tutored two Chinese junior high-schoolers via this website.
Building on all of those wonderful experiences, living again in Winnetka, I am now on a new adventure, teaching two courses online through this website: "ENG 101" & "ESL 301".
You can find more details on my resume/CV.
---
Note
"academic, adj. and n.". OED Online. November 2010. Oxford University Press. http://www.oed.com/view/Entry/880?redirectedFrom=academic (accessed March 01, 2011).
Images (in order of appearance)
Document Resume
Name: Mr Danoff's Teaching Laboratory Index Version 1.01
Type: HTML Document
Last Updated: 1 March 2011
Originally Published: 6 October 2009
Much inspiration for this version goes to Benjamin Mako Hill's fantastic website http://mako.cc, especially the "Academic Work" and "Publications" sections.
Mr Danoff's Teaching Laboratory Index Copyright (C) Charles Jeffrey Danoff 2009, 2010, 2011
a charles jeffrey danoff production